HOME
KIDS STORIES
My name is Grace Jolliffe. I love writing kids stories though I also love writing for adults and have been lucky enough to have won some awards and prizes for doing something I love. You can find out more 

about me and my writing history here.
I live on the west coast of Ireland, near the pretty little Galway bay you see below and most of the kids stories I write are set in the tiny town of Ballyyahoo which may or may not be quite close to where I live!

LUCY'S BLOG
Lucy's blog

 is a series of stories written by a young girl who lives in Ballyyahoo. Ballyyahoo is very special, so special that its whereabouts are top-secret, so you won't find it on an ordinary map of Ireland but you might just find 

one or two secrets here.
Lucy is a very special girl. Not only is she Ballyyahoo's most famous blogger and most over worked pet-sitter, she also carries out investigations.
You see Lucy wants to be a detective when she grows up. Actually she wants to be a detective and a witch, but she's keeping that quiet for now.
In the meantime she's investigating some very strange happenings in Ballyyahoo. Now, you may not think a whole lot could happen in such a tiny little town but you would be very, very surprised. There's nothing ordinary about Ballyyahoo.
Ballyyahoo doesn't just have ordinary animals like cows, sheep, horses, donkeys and rabbits. It also has special ones like 

Daffo the Donkey.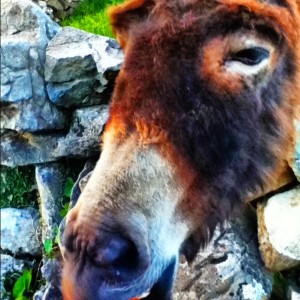 Then there's the super-hairy, 

Raggy Rabbit,

the ever-increasing horde of Cranky-Cats and then there's the 

Far-Away-Fox

 who is never as far away as people think.

Ballyyahoo doesn't just have ordinary people either. The locals are a mixed bunch of the weird and wonderful – like Gerry-Mac, Kevin, Paddy Plant, Maggie-Many-Cats, the two Miss Parrots and last but not least, there's 

Biddy the maybe-witch.
Biddy the maybe-witch may seem like a pretty ordinary woman but she is the prime suspect in a number of mysterious happenings – including the strange and yet to be unexplained appearance of a real live 

lizard with no tai

l, which is why she is currently being closely watched by Lucy.

Lucy loves witch-hunting. She's already following Biddy when ever she gets the chance and bit by bit the evidence is mounting.  It looks like Biddy might just turn out to be a real life witch but like Lucy, we'll have to wait and see.

All the stories in
Lucy's blog
are free and you can start reading right now and I hope you will come back and enjoy reading more free stories from 
Lucy's blog
.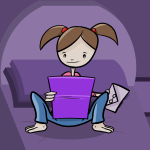 I also have more stories available on Amazon's Kindle and you can read about those

right here.