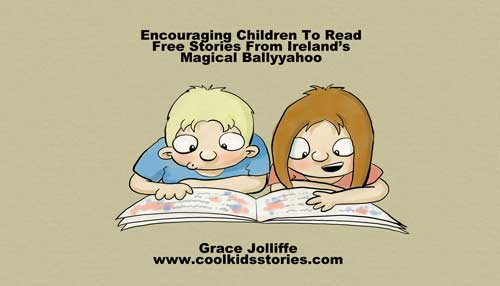 WITCHES, FAIRIES, LEPRECHAUNS, BANSHEES, TROLLS AND ALL THAT STUFF
My mother doesn't like me believing in witches, fairies, leprechauns, banshees or trolls. She's always telling me to 'keep it real.' Her friends are the same – they think all that stuff is just stupid stories for kids but what do they know?
The older people in Ballyyahoo are more fun – they believe in lots of things and lots of those things are much more exciting than 'keeping it real.'
Maggie-Many-Cats is a Ballyyahooian who believes in witches. When her cat brought home a lizard with no tail she blamed it on Biddy and called her a witch!
That got me thinking. Biddy does live in a creepy looking house – this is a picture I took from the back.

DOES THIS HOUSE BELONG TO A WITCH?
My mother says all houses look creepy on a dark night especially on a dark night in Ballyyahoo because we don't have streetlights.  That maybe so but I think Biddy's house looks creepier than most of the houses round here.
Maggie-Many-Cats warned me not to ever go inside Biddy's house because Biddy will put a spell on me so's I'll never get a fella. I don't care about getting a fella anyway because I'm too young and I've got too much to do, especially now I've got a mystery to solve. Maggie-Many-Cats says I'll care one day.
THE LOST RING
In a way it would be kind of cool to have a witch as a friend. She'd have to be a good witch though, not an evil one. If Biddy was a good witch she might teach me how to do spells. It would be great to have a spell to make my homework do itself, or to find something I lost. I used to have a lovely little ring with a red stone in it. My Dad gave it to me before he went away. The ring was very old and My Dad said it used to belong to his mother.
One day I was coming home from the bay and making my way up the lane when I realized there was something wrong with my finger. It felt different – lighter and bare. I looked down and that's when I saw the ring was gone.I felt really sad about it but my mother told me I shouldn't cry about losing 'things,' because it was people who really mattered  – not things.
I didn't cry but I felt bad all the same. I've searched everywhere for that ring and even now, a whole year later I still can't help looking down when I'm coming up the lane to see if it's hidden in a pothole or even hanging on a branch.
HOW TO SEE IF SOMEONE'S REALLY A WITCH
Now, if I had a spell to help find lost things that would be so cool. I could find my ring. But first I am going to have to find out if Biddy really is a witch. As far as I know there's only one way to find out if someone's really a witch and that's to hammer a nail into the shadow of their foot – without them noticing. Then, if the next time you see them they're limping you know for sure that they really and truly are a witch!
CATCHING SHADOWS
I know it won't be easy to sneak up behind someone and hammer a nail into their shadow without them catching you. I don't know how I'm going to do it so I will have to come up with a plan. The thing about plans is you have to think about them carefully before you do anything so that's what I'm going to do but as soon as I've done it I'll let you know what happened and that's a promise.
Back soon
Lucy