I grew up in Liverpool and have always loved writing. I wrote my first book when I was nine.  It was quite short with smudged drawings and only my Mum read it but she gave me two jelly-milk-bottles and a glass of orange juice and that was all I needed to keep me writing ever since.
I love writing so much I also developed another website to help writers. The site is full of creative writing information, ideas, tips and lots of writing exercises, as well as a free creative writing tracker. You can find it here at www.practicalcreativewriting.com
I also write for film and television as well. My favourite television job was writing for a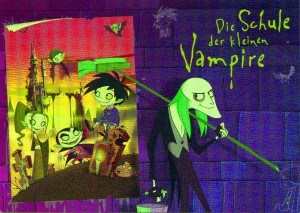 German Vampire show for kids, called 'The School For Little Vampires.' I would love to have done that job forever but sadly it wasn't to be.
STORIES FOR KIDS
I also love reading but when I was growing up all the books were about kids with big houses and cars and my house was tiny and we either went on shank's mare (walked) or got buses everywhere. I loved the stories I read but I also wanted stories that had kids like me and my friends in them but there weren't any at the time. Now it's very different and there are all sorts of stories out there, and some of them are written by me. You can find them here.
GROWING UP IN LIVERPOOL
As I said, I first started writing when I was growing up. I lived in Liverpool back then and I went to the local school where I learned that school dinners taste like chicken-soup mixed with gutter water and cabbage and that teachers could whack you with canes when they felt like it and that if you swing too fast round a maypole you can rip the skin off your knees. Oh, and luckily I did manage to learn how to read and write.
The place I grew up in, Toxteth, was full of red-bricked houses with doors painted in the Everton or Liverpool colours – depending on the football team you followed.
We played in the street a lot.  It was safe because there were so many people outdoors. When I wasn't out playing, I stayed in and read my books and played with my toys. I was lucky enough to live near the Lodge Lane Library so there was no problem getting books.
PIGGY MONK SQUARE
My first published novel, Piggy Monk Square, was short listed for the Commonwealth Writer's prize, which was really exciting. The story was based around the Toxteth area and even though I used to live there the story wasn't true.  I swear I made it up, really and truly!
COUNTY WICKLOW
Eventually my family returned to my Dad's home place of County Wicklow in Ireland and so I moved from the inner city of Liverpool to the lovely little village of Greystones near the sea and the mountains.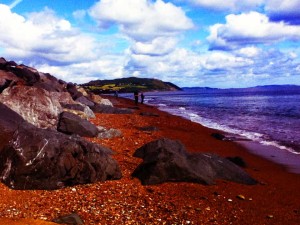 I loved living in the country and had great fun swimming, cycling and walking all over Wicklow whenever I got the chance. It was fantastic being near the sea as well, because I could collect lots of shells and stones and anything else that washed up on the beach.
FIRST PUBLISHED
I kept on writing after my move to Wicklow and I had my first story published in a little magazine called SEAM. I wrote lots of stories for that until it went and joined the great paper pile in the sky! After that I wrote stories for lots more magazines.
WRITING PRIZES
I was very lucky because I also won some prizes for my stories in competitions as well as writing festivals.  This helped me to keep going because, like most writers, there were also lots of times when I sent my writing away and heard nothing back at all. Winning prizes infected me with the writing bug and I kept writing and writing and writing.
There weren't all that many places to send stories to in Ireland at that time so when I heard that a kid's radio show called Fiction 15 was looking for stories. I sent in a story and they agreed to record it. I was really excited about this. A real actress was going to read my story on national radio!
WRITING FOR RADIO
Soon I was writing lots of short stories for that Fiction 15 and absolutely loved writing them. Sometimes I went into the RTE recording studio and read them myself and other times RTE got actors to read them. I have written a post about writing for children here.
I loved writing so much that I decided to go to college and learn about writing for Film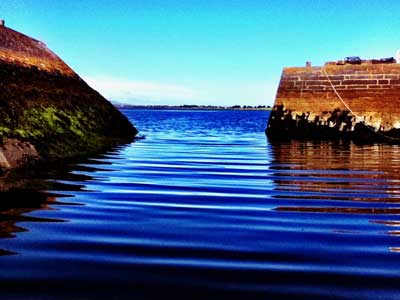 and Television. Since then I have written and directed several award-winning short films for adults as well as some serious documentaries.
Right now I still love living in the countryside and I moved to Galway a few years ago near the bay in this picture to the right. I am still writing and I still love it. I hope you do too.
Grace