'Bonkers in Ballyyahoo' is from a series of short stories for children called 'Another little Book From Ballyyahoo.'
The stories are set in Ballyyahoo which a wonderful little town that hides between the mountains and the sea, somewhere between County Galway and County Clare in Ireland. Nobody knows how to get to Ballyyahoo, apart from the people who live there and that's the way they want to keep it, so they buried all the signposts in the bog of Ballyyahoo.
There are fifty-three people living in the tiny town, and only one shop, which is also a petrol station, post office and a few other things besides. There's also one pub, one church, a rusty old post-box, loads and loads of animals like horses, cows, sheep, donkeys,  and two very bored boys.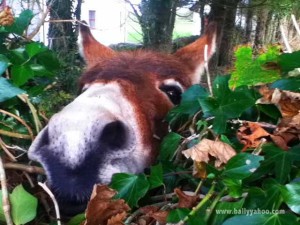 The story is a funny tale about those two bored boys: Gerry Mac and his cousin, Kevin. Gerry and Kevin are so bored they get bored being bored. Gerry doesn't really mind being bored though because he likes swinging on a gate but that drives his mother bonkers. She wants him to take part in activities and hobbies like the other kids in Ballyyahoo, but Gerry's too bored to move.
AMATEUR MISCHIEF
When Kevin gets bored he gets bad! His favourite hobby is making mischief! He enjoys a good prank and the prankier the better. Once he let an army of spiders loose in the local pub. Another time he let a gang of cockroaches loose on the bread counter at Kelly's shop.
PRANKS GETTING PRANKIER
Lately Kevin found ambition and now he thinks spiders and cockroaches are pranks for amateurs. You see Kevin's got his hands on a computer and now he wants to make some real mischief. Soon the people of Ballyyahoo will learn just how bad Kevin can be and even Gerry will be getting a shock – if he ever gets off his garden gate!
Bonkers in Ballyyahoo was written by Grace Jolliffe and was initially broadcast on Ireland's National Radio Station, RTE ONE as part of its popular Fiction Fifteen Series.