'Another Little Book From Ballyyahoo.'
This is the second short story for children in a series set in the fictional town of Ballyyahoo, on the west coast of Ireland.

BALLYYAHOO
Ballyyahoo is a tiny town that hides between the mountains and the ocean. Ballyyahoo is so well hidden that nobody knows about it, unless they live there. Ballyahoo is Ireland's best-kept secret. Only the people who live there know where it is.
The people of Ballyyahoo want to keep their town a secret, so you won't find any signposts. That's because they buried the signposts deep, very, very, very deep in the murky peat-filled depths of the bog of Ballyyahoo.
Still, if you are lucky enough to live there it's a great place to be. There's always something happening in Ballyyahoo. Between the fields, the rivers, the ocean, the beaches, the lakes, the bogs and the mountains, and lots and lots of animals, most people find plenty to do with their free time, everyone, except Gerry Mac.
Gerry loves swinging on a gate, which is very lucky for him because he can't find anything else to do. He is so bored he's bored with being bored but he's also so bored that he's too bored to have ideas.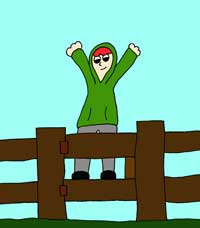 His mother, on the other hand, has lots of ideas but Gerry doesn't like his mother's ideas because they always involve him having to get off the gate and doing some work. Gerry doesn't like work any more than he likes getting off the gate.
His mother's latest idea is for Gerry to go over to old Paddy Plant's place and dig his garden. Gerry doesn't want to go but he doesn't have a choice. However, something shocking happens and pretty soon Gerry's life begins to change in a very surprising way.
Grace Jolliffe is a Galway based writer whose work has won several awards and whose children's stories have been broadcast on RTE Radio One in Ireland.