CHRISTMAS IN BALLYYAHOO – SECRET AND  SPECIAL 
Ballyyahoo is Ireland's best-kept secret. A town so tiny, and so magical that only the people who live there, know exactly where it is.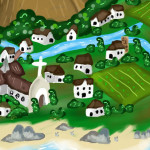 Christmas in Ballyyahoo is always special but this year it was set to be the best one ever. At least it was, until a very strange Santa and an even stranger Rudolph turned up on Christmas Eve and stole all the presents away!
DESPERATELY SEEKING SANTA
It's up to two boys, Kevin and Gerry, to save Christmas. The boys set off on their bikes, desperately seeking Santa, but when they get lost in the woods near the terrible town of Ballyuseless, Kevin and Gerry begin to wish they'd stayed at home.
Things get worse when they catch up with Santa and Rudolph and find out that they are real villains, the kind of villains that make ordinary villains seem nice. The two baddies have absolutely no intention of doing anything good, never mind returning the presents they stole from Ballyyahoo.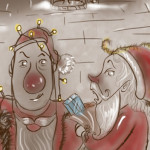 SAVE GERRY AND KEVIN
Soon disaster strikes and the two boys find themselves locked in a box, on a boat, in the middle of the Irish Sea. There's only one person that can help them and that's the wonderful Witch of Ballyyahoo, but can she come? Or is she too busy having fun? And will she find and rescue Kevin and Gerry before the wicked Santa and even wickeder Rudolph carry out their dastardly plan?