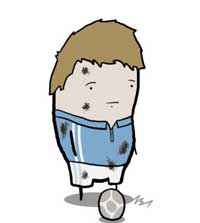 Football Crazy is a family story that isn't just about football. It's really about life, death and love. Writing this story was a very special task for me.  I wanted to write a story for the whole family as opposed to a story solely aimed at children and I knew that a family story, especially one that deals with a family crisis, should appeal to parents as well as children.
I felt that the best way to achieve this was through a story about a 'normal' family dealing with a family crisis. So the adults in my family story have faults and failings while still always trying to do best by their children. Just like real parents.

In 'Football Crazy' the crisis is the death of a grandparent who was a big part of this football loving family. Whether you like football or not, the parents in the story are people you can identify with. They could be you, your neighbours, relatives or friends. In other words they are human.
When I wrote this I had my own personal family story at the forefront of my mind. I remembered the death of my own grandmother when I was nine and in particular my childish confusion around my family's response to her death, which given the times – was a silent sort of sadness.

Like little Jimmy in 'Football Crazy' I thought my family would never be the same again and also like Jimmy I gradually learned that families do recover and be 'normal' again.
Looking back to those times I know if had heard or read a little story about other families coping with the loss of a loved one it would have helped me and relieved some of my confusion.
The idea of helping a confused child or helping parents raise a sensitive subject to discuss with their children really inspired me to write a family story but I didn't want to make it too sad. Life is a mixture of  happy and sad events so I aimed to write a warm and enjoyable story to reflect that reality. I also wanted to show that time really does heal.
When Football Crazy was initially broadcast on RTE 1 National Radio here in Ireland, I was heartened by the wonderful response the story received from parents and children. So much so I decided to make the story available on Kindle for the first time.
All families experience crisis from time to time and I really hope that 'Football Crazy' is an enjoyable family story that can provide you and your children with a little help or comfort during a family crisis.