FUNNY STORIES FOR KIDS 
(AND THEIR PARENTS)

'Football Mad,' is one of those stories that parents can identify with. We all want to be good parents but unlike those perfect parents we see in the adverts it's sometimes hard to find the time to do all the things our children want us to do.
Well, the parents in this story aren't perfect either. In fact, they are very busy and this gives their son, Shane, a problem.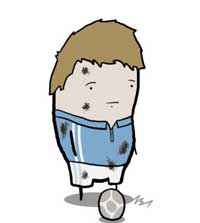 Shane's problem is that he is absolutely football mad and he desperately wants to get on the school football team. Unfortunately for Shane his coach says his techniques aren't good enough and he needs to practice. To do this, Shane needs support from his parents but they're just so very busy…
The other boys in school make fun of Shane and with his Mum busy  practicing her yoga and his Dad busy reading, he enlists some support from his granddad and together they come up with a solution.