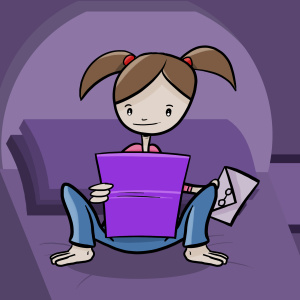 Stories for children can serve two purposes. First, they can entertain by telling a good story, one with great characters and a plot that keeps you interested, wondering and guessing just how the story will end.
Secondly, stories can do all the above but they can also help children with problems by raising topics for discussion and learning. I wrote 'The Tree Hugger ' with both these purposes foremost in my mind.
Personally speaking, having been bullied in the past myself, I have always wanted to write stories that just might help prevent bullying, or help a child or parent cope with the effects of bullying.
'The Tree Hugger' was initially broadcast as part of a children's radio show called Fiction Fifteen on RTE, national radio here in Ireland. It had a great response and as a result 'The Tree Hugger' was broadcast twice. Parents who have read the story with their children have told me they found it a great way to open up a difficult subject for discussion.
Stories for children often engage with the theme of bullying but this story also looks at the difficult choices and moral dilemma thrust upon children who witness bullying. Seeing bullying going on and being powerless to prevent it happening can have adverse affects on our self-confidence.
As a writer and a mother I also feel it is important to develop strong, bright female characters. Females who are not afraid to choose how they look or how they behave. The following synopsis provides parents with insight into the characters and story themes explored in the story.
THE TREE HUGGER
Everyone's scared of Susan and Leonie because they're the school bullies. They decide who is 'in' and who's 'out.' Debbie is just as scared of the bullies as everyone else because Debbie's 'in' and Debbie wants to stay 'in.'
New girl, Shalmalah is definitely 'out. ' She doesn't do her hair right or wear the right clothes. Another thing that makes Shalmalah different is that she doesn't care what the bullies think and doesn't see why she should change to suit them.
Susan and Leonie want to make her care and they do their best to make Shalmalah's life hell. They pick on her all the time, spread nasty rumours about her and stop the other girls speaking to her. Soon Shalmalah is isolated and alone.
Debbie feels sorry for Shalmalah but she also thinks that if Shalmalah tried harder to be the same as everyone else Susan and Leonie would leave her alone. Shalmalah doesn't want to be like everybody else – she wants to be herself.
Debbie doesn't like seeing Shalmalah getting bullied but she knows that with Susan and Leonie, you're either with them, or against them. Debbie doesn't want to be the next person they start picking on either. Shalmalah knows too well that once the bullies have decided that you are 'out' then you are on your own.
One day, Debbie finds out that Shalmalah's mother and her own mother are becoming friends and she has to be nice to Shalmalah at home. Debbie hates feeling so two-faced and soon she has to make a very difficult choice.